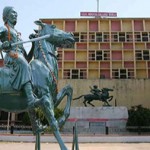 Veer Surendra Sai Institute of Medical Sciences and Research formerly called V.S.S.Medical College and Hospital situated by the side of Hirakud Dam began her march to fame with a spirit of nationalism and an urge to serve, educate and innovate. The present eminence is the culmination of efforts of countless men and women who gave their best under good circumstances and also during difficult situations.
This rural medical college has many dreams yet to be realized.  Catering the health needs of  Western Odisha, part of Chhatisgarh and Jharkhand fully in view of rapid urbanization and industrialization in the vicinity it needs rapid expansion and state of the art facilities soon to keep its old tradition and meeting these challenges. We strive hard to offer a balanced blend of preventive, promotive, curative and rehabilitative services to the society.
Unremitting zeal, devotion and professional competence with empathy of the medical and paramedical personnel have ensured that on completion of study, our young doctors realize that  "We Touch, God Heals" and they have to serve the mankind with love and compassion.
Objectives
To develop a pattern of teaching in undergraduate and postgraduate medical education in all its branches so as to prepare Human Resources for Health for Odisha and India at large.
To render health services to both rural and urban people of western Odisha and part of Chhatisgarh and M.P.
To integrate with state health services and NGOs in implementing national health programs in terms of training,monitoring,supervision and  expertise in related fields
Courses Offered
MBBS, MD/MS, Nursing,Residency Program,DMLT/DMRT
Address:
VSS Medical College,
Burla, Sambalpur, Odisha, India
PIN – 768017
Office of the Dean & Principal
Phone: +91-6632430768
Email: vssmcburlaorissa@gmail.com
Fax: +91-6632430767
Office of the Superintendent
Phone: +91-663-2430435